Hire the best baby photographer in Pampanga
Capture every precious milestone of your little one's first year with our milestone session! Starts at PHP 20,000.00
Book a milestone package
Capture every step of your baby's incredible journey with our milestone photography packages in Pampanga! From those tiny toes to their first wobbly steps, we're here to freeze those beautiful moments in time. Choose between monthly or quarterly sessions throughout your baby's first year as we document their growth and milestones with love and expertise.
Our skilled milestone photographer in Pampanga will create a fun and comfortable environment, ensuring your little one shines in every frame. With our newborn milestone photography, you can cherish those precious early days and watch your baby blossom into a bundle of joy.
Milestone baby Packages
PRICE STARTS AT
PHP 20,000.00
Choose the location where your photoshoot will take place to check availability.
Access to our creative setups
Unlock a world of imagination with access to our creative setups, where your baby's milestones will come to life in the most beautiful way possible.
Professionally edited milestone photos
Celebrate each milestone with professionally edited photos that capture your baby's journey's pure joy and wonder.
Air-conditioned room for your baby's comfort
A happy baby makes for the most delightful photos! Enjoy a cozy and air-conditioned room during your milestone photoshoot.
Professional baby photographers
Our team of professional newborn photographers is here to expertly capture every milestone with their artistic flair and love of storytelling.
Access to our baby's wardrobe
Choose from our adorable baby wardrobe collection, featuring outfits that will make your little one look even more adorable in their portraits.
Freebies for our milestone clients
As a bonus, our milestone clients can choose between stunning wall art or an elegant frame to showcase their favorite milestone photo.
Frequently Asked Questions
At Cimmaroon Photography, we recommend booking a milestone session for your baby within the first two weeks of their arrival, just like our newborn sessions. This ensures you can capture as many milestones in your little one's first year as possible. Time flies so quickly, and we want to document every adorable moment. So don't wait too long!
Booking a Milestone baby photoshoot is easy as 1-2-3!
On the Milestone baby Package section of this page, choose your location and click the Check Availability button.
Select the Milestone baby photography package you want
After selecting your package, you'll be directed to a fill-up form. Provide your contact details and special notes for your Milestone baby's photoshoot.
Once you're done, wait for a confirmation message from our team via email.
As part of our refund policy, if there's a camera failure, inclement weather, or any other unforeseen incident that prevents us from capturing your special moments on the scheduled date, rest assured that we'll work closely with you to reschedule or refund your deposit, if applicable.
Our photography studio in Pampanga is located at:
2nd Floor A&A Building
Brgy. Telabastagan, San Fernando, Pampanga

Landmarks:
In front of Telabastagan Barangay Hall beside 7-11 convenience store

We currently service all areas of Pampanga, Tarlac City and Metro Manila.
Yes, we accept home service.
Why Book With
Cimmaroon Photography?
Choose Cimmaroon Photography for your baby's milestone photoshoot in Pampanga and experience these benefits that will make your little one's first-year journey even more extraordinary!
Professional baby photographers
Picture-perfect moments captured by our professional milestone photographers so you can enjoy every smile, giggle, and milestone of your little one.
Safety and comfort
We prioritize safety and comfort during every milestone session to ensure your baby feels secure and comfortable throughout the entire session.
A safe space for your little one's personality
Our studio provides a safe and creative space where we can bring your vision to life, and your baby can show their unique, playful personality.
Fast turnaround
We'll have your professionally edited photos ready in no time!
Affordable milestone photoshoot packages
Cherish every milestone without breaking the bank with our affordable milestone photoshoot packages.
Be featured on our social media page
We'll feature their adorable photos on our social media pages with your permission!
Baby (1month+)
Watch your baby grow, frame by frame, with our baby session! Perfect for babies ages 1 to 9 months.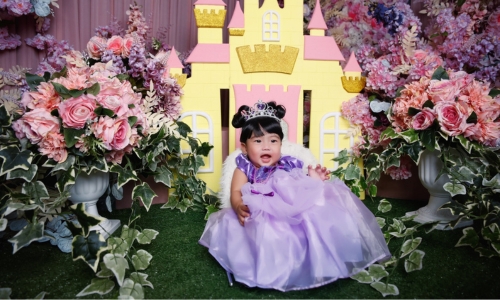 Kiddie
Let your kid's vibrant personality shine through in every frame with our kiddie session. Suitable for kids ten months to 3 years old.
Family / Group
Live, laugh, love with your family or friends as you pose and enjoy a group session with us. Perfect for families, cousins, and barkadas.
Solo / Portrait
Unleash your inner model and bring out your best poses and smiles. Embrace confidence with our solo portrait session!