Hire a baby photographer in Tarlac City
From tiny giggles to curious explorations, preserve every precious moments of your baby with a baby photoshoot. Starts at PHP 5,500.00
Book a baby session
Capture the boundless joy and irresistible charm of your little bundle of happiness with our delightful baby photography services in Tarlac City!
At Cimmaroon Photography, our experienced baby photographers in Tarlac City know how to make your little one shine, using creative setups and props that bring out their playful personality. Whether it's a cake smash session or a space astronaut theme, our baby photoshoots in Tarlac City are filled with giggles and unforgettable moments.
During your baby photoshoot in Tarlac City, we'll create a fun, relaxed environment where your little star can shine. We aim to create timeless portraits that make your heart skip a beat every time you look at them.
Baby (1month+) Packages
PRICE STARTS AT
PHP 5,500.00
Choose the location where your photoshoot will take place to check availability.
Access to our creative setups
Every backdrop is carefully crafted to bring out their unique personality and create timeless memories.
Professionally edited baby photos
Watch your baby's cuteness come to life in professionally edited photos that capture their irresistible charm.
A newborn specialist on standby
Our experienced newborn specialist and dedicated team know how to create a calm and soothing environment so your baby feels safe, comfortable, and ready to shine in front of the camera.
Air-conditioned room for your baby's comfort
We prioritize your baby's comfort by providing an air-conditioned studio where they can stay relaxed and content throughout the session.
Professional baby photographers
Our professional baby photographers are masters at capturing every precious expression and milestone.
Access to our baby's and kid's wardrobe
Choose from our baby and kid wardrobes to dress your baby in adorable outfits.
Baby photoshoot inspirations
Get ready to be inspired by the cutest, most heart-melting portraits from our past baby photoshoots in Pampanga! From adorable poses to charming themes and delightful concepts, this gallery is a treasure trove of ideas to make your baby's photoshoot memorable.
Our experienced baby photographers in Pampanga have captured countless precious moments. Now it's your turn to create memories to warm your heart for a lifetime. So, grab a cup of joy and get lost in this gallery of adorable smiles and twinkling eyes.
View our gallery
Frequently Asked Questions
Our baby photoshoots are tailored for babies aged one to nine months old. This means you have a vast opportunity to schedule your session and capture those priceless moments. Whether your baby is just starting to sit up, babbling with delight, or taking their first wobbly steps, every stage is a treasure to be preserved. Our friendly and experienced photographers will work their magic to capture those adorable smiles, giggles, and tiny fingers with love and care.
Booking a Baby (1month+) photoshoot is easy as 1-2-3!
On the Baby (1month+) Package section of this page, choose your location and click the Check Availability button.
Select the Baby (1month+) photography package you want
After selecting your package, you'll be directed to a fill-up form. Provide your contact details and special notes for your Baby (1month+)'s photoshoot.
Once you're done, wait for a confirmation message from our team via email.
As part of our refund policy, if there's a camera failure, inclement weather, or any other unforeseen incident that prevents us from capturing your special moments on the scheduled date, rest assured that we'll work closely with you to reschedule or refund your deposit, if applicable.
Our photography studio in Pampanga is located at:
2nd Floor A&A Building
Brgy. Telabastagan, San Fernando, Pampanga

Landmarks:
In front of Telabastagan Barangay Hall beside 7-11 convenience store

We currently service all areas of Pampanga, Tarlac City and Metro Manila.
Yes, we accept home service.
Why Book With
Cimmaroon Photography?
Choose Cimmaroon Photography for your baby photoshoot in Tarlac City and experience these delightful benefits that will make your journey into parenthood even more extraordinary!
Professional baby photographers
Trust our skilled and experienced baby photographers to capture your little one's early moments with expertise and love.
Safety and comfort
Our studio provides a secure environment where your baby can relax and be at ease throughout the photoshoot.
A safe space for creativity
Our studio is a haven of creativity, where we combine our expertise with your unique vision to craft enchanting portraits that reflect your baby's personality.
Fast turnaround
With our efficient workflow, we'll deliver the edited images to you within 10 days so that you can share the joy with your loved ones.
Affordable baby photoshoot packages
Our affordable baby photography packages ensure you can capture these precious moments without compromising quality.
Be featured on our social media page
Share the cuteness overload with our community of adoring fans. But don't worry; if you prefer to keep your photos private, we respect your privacy and will honor your wishes.
Milestone baby
Celebrate your baby's incredible first-year journey! Let's capture their every laughter and mischief with our milestone session.
Family / Group
Live, laugh, love with your family or friends as you pose and enjoy a group session with us. Perfect for families, cousins, and barkadas.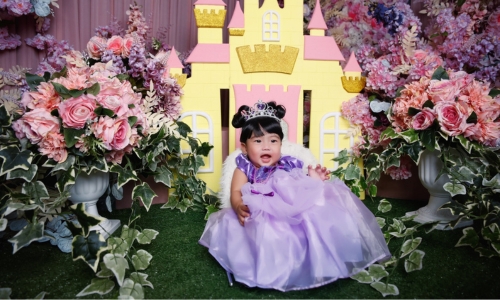 Kiddie
Let your kid's vibrant personality shine through in every frame with our kiddie session. Suitable for kids ten months to 3 years old.